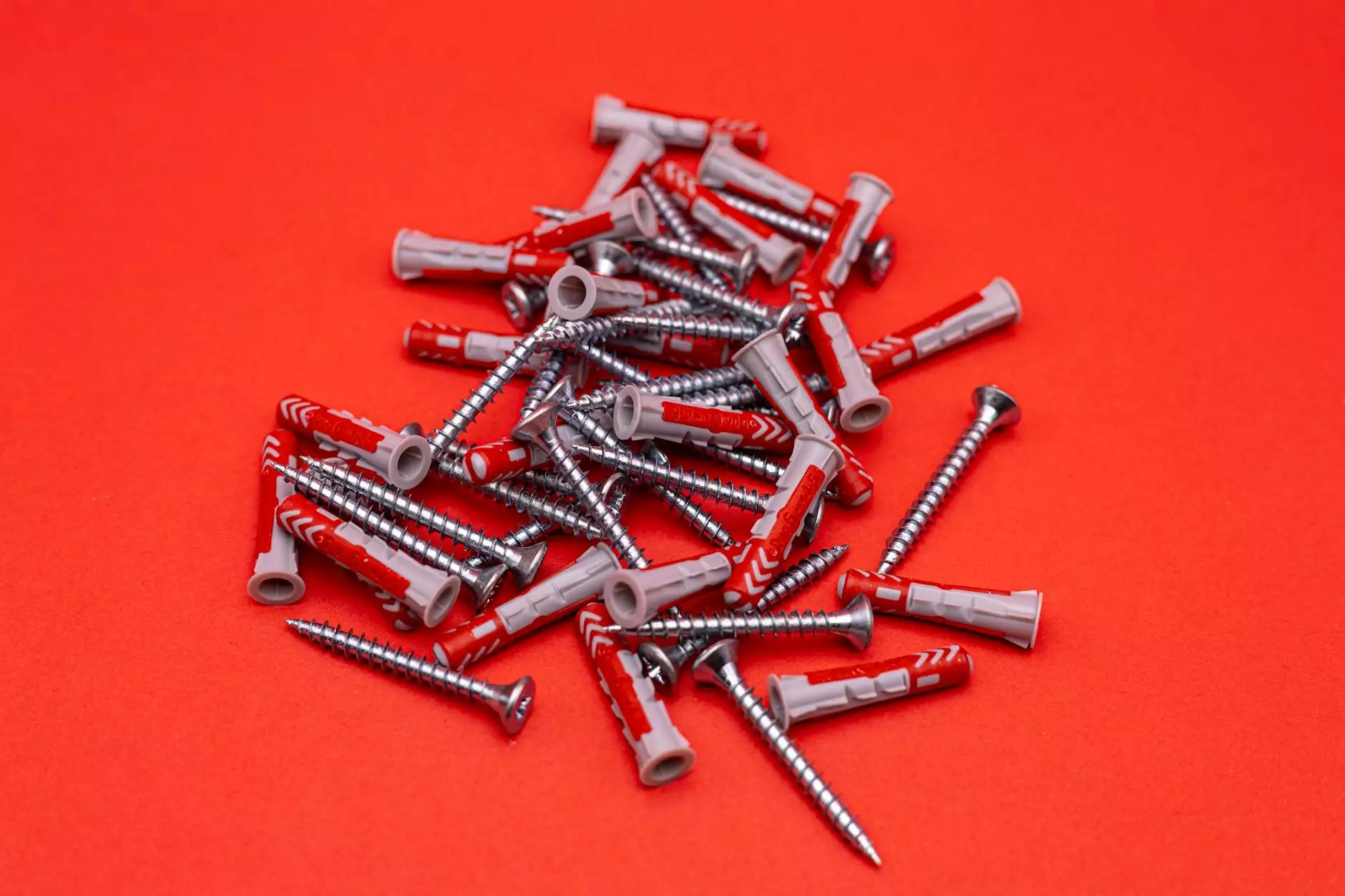 The Ultimate Guide to Concrete Screws and Anchors
Introduction
Welcome to the ultimate guide on concrete screws and anchors provided by J & B Fasteners - your trusted source for high-quality fastening solutions. In this comprehensive guide, we will explore and discuss everything you need to know about these essential hardware components for secure fastening on concrete surfaces.
Why Choose J & B Fasteners?
At J & B Fasteners, we pride ourselves on offering top-notch concrete screws and anchors that meet the highest industry standards. With years of experience and expertise in the fastening industry, we understand the unique challenges involved in working with concrete materials.
Our extensive range of concrete screws and anchors are carefully crafted to provide reliable and durable fastening solutions. Whether you're a DIY enthusiast or a professional contractor, our products are designed to meet your specific requirements and ensure optimum performance.
The Importance of Secure Fastening
When it comes to concrete applications, secure fastening is of utmost importance. Whether you're installing shelves, mounting fixtures, or constructing a structure, you need reliable screws and anchors that can withstand the weight and forces involved.
Without proper fastening, your projects are at risk of structural failure, compromising safety and longevity. By choosing high-quality concrete screws and anchors from J & B Fasteners, you can have peace of mind knowing that your installations are secure and built to last.
The Different Types of Concrete Screws and Anchors
1. Concrete Screws
Concrete screws, also known as masonry screws, are specifically designed to penetrate and hold in concrete, brick, and other masonry materials. They feature sharp threads that provide excellent grip, making them ideal for a wide range of applications, including framing, woodworking, and electrical installations.
At J & B Fasteners, we offer a variety of concrete screws in different lengths, diameters, and head styles to suit your specific needs. Our knowledgeable team can assist you in selecting the right screws for your project, ensuring a secure and efficient fastening solution.
2. Concrete Anchors
Concrete anchors, on the other hand, provide a strong and reliable means of attaching objects to concrete surfaces without compromising stability. They come in various types, such as wedge anchors, sleeve anchors, and drop-in anchors, each designed for specific applications and load capacities.
With J & B Fasteners' wide selection of concrete anchors, you can choose the perfect anchor to match your project requirements. Our expert team can help you determine the right anchor type, size, and installation method to ensure a secure and lasting attachment.
Tips for Proper Installation
To achieve optimal results with your concrete screws and anchors, it is crucial to follow proper installation techniques. Here are some essential tips to keep in mind:
1. Pre-Drilling
Before inserting screws or anchors into the concrete, it's important to pre-drill pilot holes using a masonry drill bit with the appropriate diameter. This step ensures precision and prevents concrete from cracking.
2. Correct Embedment Depth
Ensure that the screws or anchors are embedded in the concrete at the recommended depth. This helps maximize their holding power and prevents them from loosening over time.
3. Adequate Torque
When tightening screws or driving anchors, make sure to apply the correct amount of torque. This ensures a tight fit and optimal load-bearing capacity.
Expert Advice and Support
J & B Fasteners is not only dedicated to providing high-quality products but also to offering expert advice and support. Our experienced team is always ready to assist you with any questions or concerns you may have regarding concrete screws and anchors.
Whether you need technical specifications, installation guidelines, or application recommendations, we have the knowledge and expertise to help you make informed decisions and achieve successful results.
Contact Us Today
For all your concrete fastening needs, choose J & B Fasteners. With our extensive range of top-quality concrete screws and anchors, combined with our commitment to excellent customer service, we are your trusted partner for secure and reliable fastening solutions. Contact us today to discuss your requirements and let us assist you in finding the perfect solution for your project.